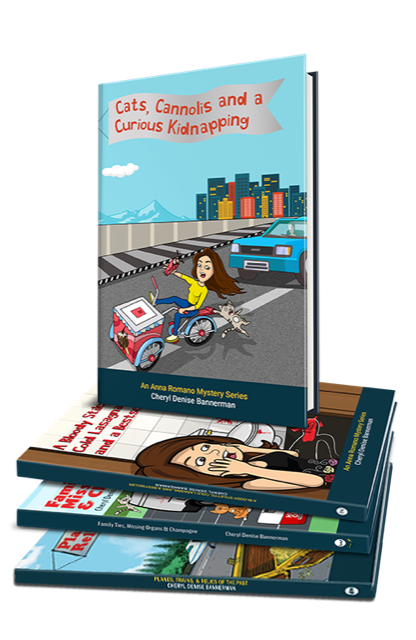 Experience the side-splitting, cozy, small town charm of The Anna Romano Murder Mystery Series, where humor meets heart in these whodunit crimes filled with adorable cats and mouthwatering Italian recipes. Follow Anna Romano, the successful mystery author with a passion for her furry, feline companions and cooking, as she navigates her way through hilarious detective mysteries. With four engaging books in the series, it's a recipe for good, clean murder mystery fun for everyone, and you can enjoy it in eBook, paperback, or audio format.
"Although at one point Romano imagines she's living out an episode of "Law & Order", the television series the book most evokes is "Murder She Wrote"–a straightforward, mystery Jessica Fletcher would have wrapped up within the hour." ~ Kent Lane, IndieReader
The Anna Romano Mystery Series on Audiobook
Semi-Finalist in the MLC Audiobook Awards with a 2020 IMDb Nomination
In this first installment, on a typical day in Anna's somewhat-perfect life, a book-signing event turns her world upside down. Is it a case of mistaken identity or was she just being paranoid?
After being stalked for weeks, Anna quickly finds herself literally 'tied up', fighting for her life, and desperate to get back home to her cats; all while unwittingly falling in love with the detective who was trying to save her. How she finds her way out of this mess is anyone's guess!